Sensor Gas Chromatograph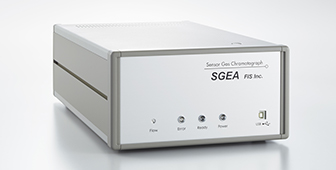 Nissha FIS Sensor Gas Chromatograph (SGC) realizes quick gas separation and super gas sensitivity by using Nissha FIS original short column and Nissha FIS semiconductor gas sensor.
Application fields
SGC can be used to detect very small gas in various fields.
Factory environment measurement

Environmental measurement inside and outside a factory, malodor processing ability check, etc.

Garbage odor control

Garbage released odor control, odor prevention in the neighborhood, etc.

Deodorizer performance evaluation

Performance and deterioration evaluation for deodorizers, etc.

Food freshness check/food production quality control

Quality control and freshness check in food processing process, etc.

Very small amount gas analysis in R&D

Very small amount gas analysis in R&D of environmental, medical, and micro-organism fields
Feature
Super sensitive measurement of quite small amounts of gas
Since extremely high sensitive semiconductor gas sensor is used as a detector, ppb (parts per billion) level measurement can be realized.
Easy operation/short time measurement
Simply injecting sample gas starts measurement automatically. The measurement is completed in 4 or 8 minutes.
No carrier gas cylinder required
SGC uses ambient air as carrier gas so that high pressure gas cylinder is not necessary. Note: Some models need the cylinder.
Small size/light weight/Portable
Our original technology including a short length column has realized a small size (B4 size) and light weight (5.5kg) unit with excellent portability that does not require a limited installation site.
Real time data viewing with attached software
SGC is supplied with a standard software displaying the real-time measurement results on PC. This software has various features such as chromatography chart, gas concentration display, and continuous measurement (optional) display.
*Please supply your own PC.

*PC is not included.
Customizable
SGC can be customized to meet your demand.
Examples:
For use with high purity air cylinder as carrier gas, if the ambient air around SGC is polluted, etc.
Automatic gas injection and continuous measurement (continuous monitoring is possible by automatic sampling function)
For the measurement of other gas than currently available gases
Continuous measurement (automatic gas injector) *Optional feature
Automatic continuous measurement is possible by setting total measurement duration time or total measurement times.
Basic configuration
Simple configuration using ambient air as carrier gas and highly sensitive semiconductor gas sensor as a detector realizes super sensitive measurement.

Specifications
Item
Contents
Product name
Sensor Gas Chromatograph
Model
ODSA-P3-A
ODNA-P3-A/B
SGHA-P3-A/B
SGVA-P3-A
SGEA-P3-A
Measurement method
Pressurized gas is not required. Only inject sample gas to start measurement automatically.
Detector
Semiconductor gas sensor
Target gases(*1)
Hydrogen sulfide
Methanethiol
Dimethyl sulfide
Ammonia
Trimethylamine
Hydrogen
Carbon monoxide
Toluene
Ethylbenzene
Xylene
Styrene
Acetaldehyde
Acetone
Ethanol
Isoprene
Measurement unit
ppb
Measurement concentration

Hydrogen sulfide:
2 to 1000ppb(1ppm)

Methanethiol:
5 to 1000ppb(1ppm)

Dimethyl sulfide:
5 to 1000ppb(1ppm)

(ODNA-P3-A)
Ammonia:
30 to 10000ppb(10ppm)

(ODNA-P3-B)
Ammonia:
100 to 10000ppb(10ppm)

Trimethylamine:
10 to 10000ppb(10ppm)

(SGHA-P3-A)
Hydrogen:
10 to 10000ppb(10ppm)

Carbon monoxide:
50 to 10000ppb(10ppm)

(SGHA-P3-B)
Hydrogen:
1000 to 100000ppb(100ppm)

Carbon monoxide:
1000 to 100000ppb(100ppm)

Toluene:
5 to 1000ppb(1ppm)

Ethylbenzene:
5 to 1000ppb(1ppm)

Xylene:
5 to 1000ppb(1ppm)

Styrene:
5 to 1000ppb(1ppm)

Acetaldehyde:
5 to 10000ppb(10ppm)

Acetone:
20 to 50000ppb(50ppm)

Ethanol:
200 to 100000ppb(100ppm)

Isoprene:
10 to 10000ppb(10ppm)

Carrier gas
Filtered clean ambient air
Cylinder air
Filtered clean ambient air
Sampling injection
Manual injection with a syringe. (*2)
Measuring time
4min
8min/4min (*3)
2min/4min (*4)
8min
8min
Sampling gas amount (*5)
2cc
2cc
1cc
5cc
5cc
Minimum display resolution
0.1ppb
Warm-up time
5 to 60min (*6)
Measurement results
On PC display (*7)
Power supply
100 to 240V AC, 50/60Hz
100V AC, 50/60Hz
Power consumption
Approx. 100VA
Measurement
340(D) × 260(W) × 135(H)mm
435(D) × 260(W) × 135(H)mm
Weight
5.5kg
6.0kg
6.5kg
Operating temp / humid
Temperature: 10 to 30̊C Humidity: 20 to 80%RH (No dew condensation)
Storage temp / humid
Temperature: -20 to 60̊C Humidity: 20 to 80%RH (No dew condensation)
(*1) Listed gases are standard. Contact us for other gas measurement.
(*2) Automatic and continuous sampling is available (option).
(*3) 4min is for Ammonia. Both take 8min.
(*4) 2min is for SGHA-P3-A. 4min is for SGHA-P3-B.
(*5) Sampling gas amount can be changed within the range of 0.2 to 5cc.
(*6) Warm-up time is automatically adjusted depending on the unit stability.
(*7) Exclusive measurement analysis softwere is attached.