Topic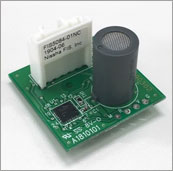 Released new gas sensor module to detect refrigerant,
FIS5084 series
Highly sensitive detection of refrigerant leaks influencing the environment.
Contributing to the prevention of global warming.
• Factory calibrated module can easily be installed into air conditioners and refrigerating apparatuses.
• Easy maintenance with a longer life than 10 years
• Can control air conditioners and release a malfunction notice with the combination of a wireless network.